Live Strip Bingo!





Want to Play? Join us about once a month.

In this version of Bingo, Brent strips off one piece of clothing
each time he calls a number. ;-)
There will be prizes, nudity, fun, & much more.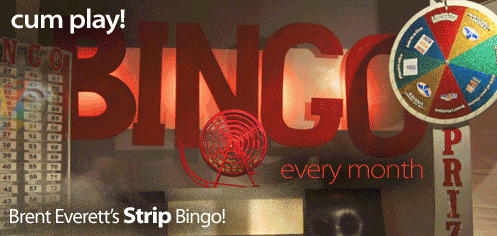 Here's how it works:
• NEW & IMPROVED: To play, email us at steve@brenteverett.com with "BINGO" in the subject line. YOU MUST INCLUDE YOUR USERNAME in the email to make it easier to identify you when you win. We'll send you a playing card & enter you in the bingo game. Send your e-mail no later than two days before a game - you'll receive your card by return email.

• Each bingo card is registered to a single member by username so we can identify whose card it is and verify the numbers the winning numbers. You only register once, the same card is good for every bingo of a given season.

• We play one (1) line any direction.

• We play approximately once a month or so.

• If you win the game, Brent spins the prize wheel. You get chances to win various items on the wheel. We start small and then as the year goes on, you will get a chance at big time prizes!!!

• Winners get their prizes sent to them.

• Each winner's name is put into a pot (Prize Bowl).
You do not want to miss it - hope to see you there!
If you don't have a card, you'll be able to watch, but won't be able to play. So, please make sure to send in your request as soon as possible, don't wait for the last moment.
For more information, contact Steve.
If you've never played BINGO before, here's a short description of the game:

A Bingo Card contains 24 numbered spaces and one free space (blank) in the centre, with which you play BINGO. The numbers are assigned at random on each card and are arranged in five columns of five numbers each by five rows (5 x 5 = 25 in total including the blank square).

The numbers in the "B" column are between 1 and 15, in the "I" column between 16 and 30, in the "N" column (containing four numbers and the free space) between 31 and 45, in the "G" column between 46 and 60, and in the "O" column between 61 and 75.
Number Calling
The numbers are announced quickly by the Caller, so you must pay careful attention to the numbers that are called and mark them quickly and accurately on your card.
The Caller keeps calling numbers until one or more players claim BINGO. Then the game stops and the numbers are verified. If there is a winner, the prize is awarded. If there is more than one winner, the prize is split among all the winners.